Darkling Treasures- the mad ramblings, mental snapshots, and imaginative workings of artist Emily White.
Update 8/23/15:

Studio cleaning time! I've been putting up some older original artworks for auction on eBay

HERE

- trying to make room for new arts! Super low starting bids on beautiful illustrations and paintings (starting at $9.99!) Don't miss out on something wonderful :)
Update 6/10/15:
I refaced a doll! Her name is Georgine.
You can read all about her, and see tons of pictures and stuff on her own special page
HERE
! Also, she is currently up for auction on eBay
HERE
, and there is the inevitable blog post regarding this dollie
HERE
!
---
Update 4/8/15:
* "Cosmos" is completed! :) This original is currently hanging out in my etsy shop
HERE
, awaiting a new home!
* Currently working on a project that is not 2D! Hoping to have something to show you all soon...
---
Update 1/29/15:
Work in progress photo of a piece I am redrawing in a larger size (the original was 2.5" x 3.5", this one is 8.5" x 11"). Plans for a late February release. Of course, if you can't wait and have to have her now, just send me an
email
and we can work something out :)
---
Update 1/20/15:
I've been away for awhile, but now I'm BACK!! Check out the latest, brand new painting and blog post
HERE
!
"Scribbles the Clown" original painting is up for auction on eBay
HERE
!
---
Update 2/27/14:
I know, I've been gone awhile...see where I'm at now with the aide of this handy blog post:
Where I Disappeared To
Update 10/9/13:
A Snow White inspired artwork- "Ms. White"! Read all about her, and even get yourself (or a friend) a poster
HERE
!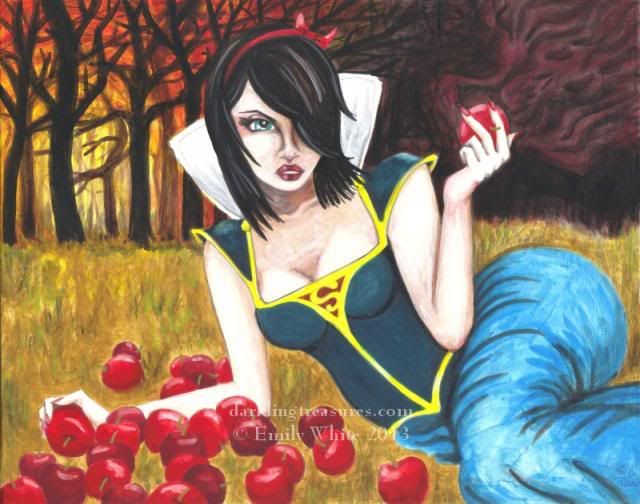 Brand new Double Sided ACEO art prints of: Pris-tend, Button Pusher, Blue Dutchess, and Outersea are available! They are $4 each, free shipping for orders placed through this website!
Email Me
with your request!
COMMISSIONS are OPEN again!! Click on the 'Commissions" tab on the main menu to read all about how to get a custom piece from me!
Update 8/26/13:
I have added prints and poster options for "Pris-tend" and "Outersea" to my
New Art- 2013
gallery- go check it out! Double-sided ACEOs are also available!
Update 8/8/13:
All images and site content copyright © Emily White.
For permission to use any image, please contact the artist at darklingem@gmail.com